Indian snacking is an art form, and crunching and munching are two of its most essential elements. Despite gathering around with bajis, samosas and bondas during snack time, the snacking method for Indians goes beyond that. Our mothers and grandmothers had the habit of drying half of the grains in the kitchen. Right from moong dal till puffy rice. Every grain has another role apart from being an ingredient in the recipes. Now, in this blog let's explore the diverse and delicious munchy snacks that are widely eaten across the majority of the Indian states. In this exploration of flavors, let's get to know the delicious munchy snacks that grace tables across the diverse landscape of Indian states.
The Uniqueness of Indian Snacks
Indian snacks are often seen as a way to enjoy life, not just to satisfy hunger. They are not just to be had with tea, but they are also to be enjoyed anywhere and anytime. And most importantly, they are a way to connect with others. This is why Indians love to snack on crunchie and munchie treats even when they are not hungry.
Crunchie and munchie snacks are simply enjoyable to eat. The combination of crunchy textures and flavorful spices can be very addictive. Additionally, snacking on crunchie and munchie treats can help to keep you feeling energized and satisfied.
Here are a few of the many popular Indian snacks to enjoy:
Murukku: A crunchy snack made from rice flour and lentils.
Makhana (lotus seeds): A roasted and spiced snack that is low in calories and high in protein.
Roasted chickpeas: A crunchy and flavorful snack that is high in protein and fiber.
Foxnut: A crunchy and nutty snack that is high in fiber and nutrients.
Puffed rice: A light and airy snack that is often used in bhel puri and other snack mixes.
Roasted peanuts: A crunchy and nutty snack that is high in protein and fiber.
Sprouted moong dal: A crunchy and nutritious snack that is high in protein and fiber.
Baked chips: A healthier alternative to fried chips. They are made with a variety of vegetables, such as sweet potato, kale, and beet.
Multigrain namkeen: A type of Indian snack that is made with a variety of grains, such as rice, wheat, and maize. It is typically flavored with spices and herbs.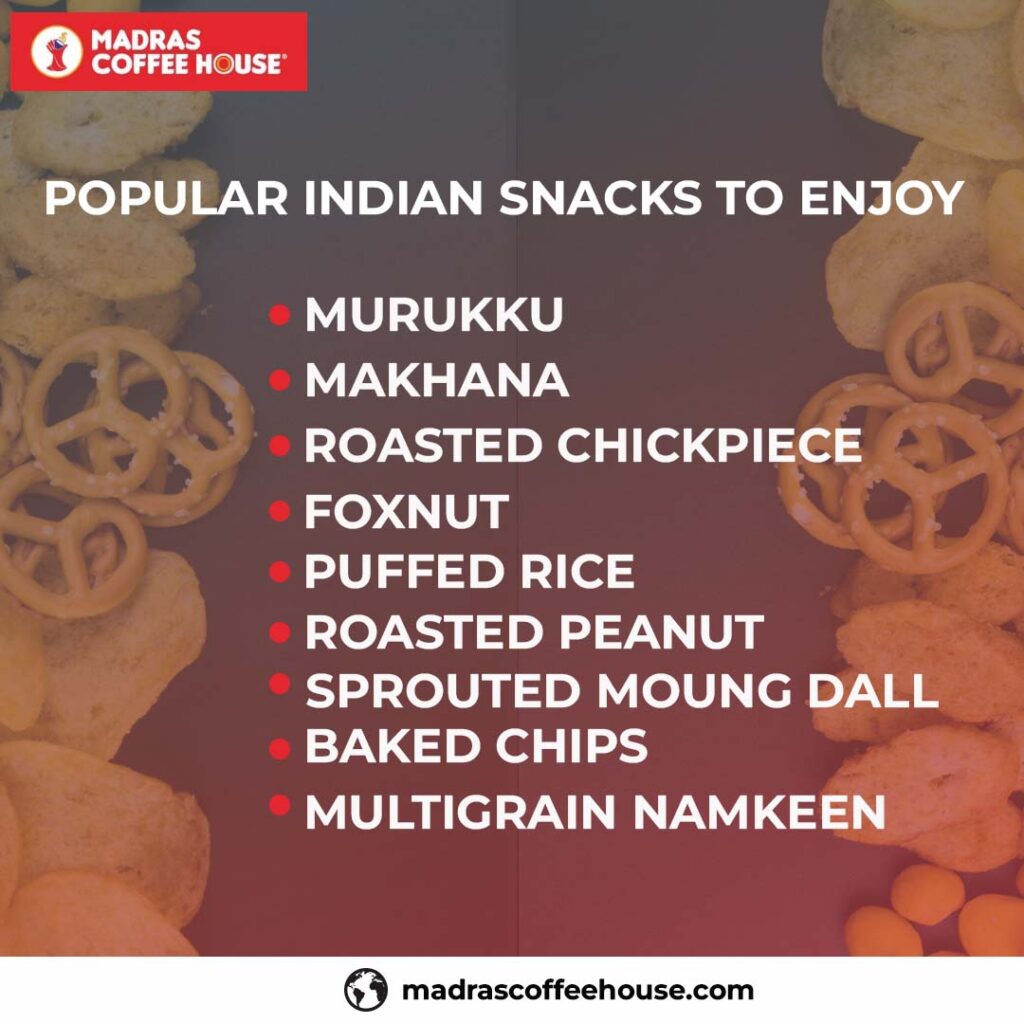 No matter what your taste buds are craving, there is an Indian snack for you. So, next time you are looking for a delicious, healthy, and satisfying snack, reach for an Indian treat. You won't be disappointed! To explore more munchies and crunchies join us at Madras Coffee House. Get the taste of our unique Indian snacks.